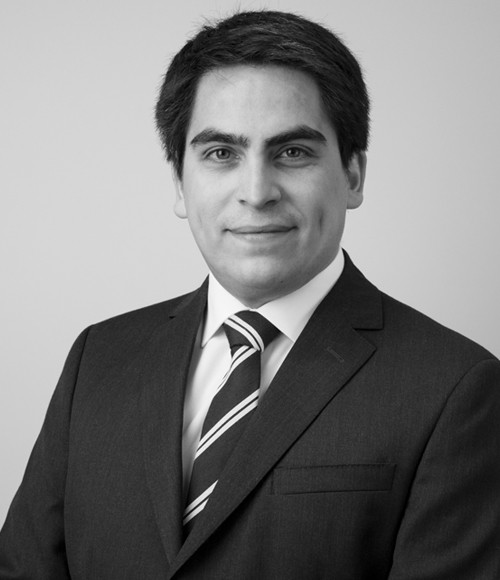 Diego Lasagna
Associate

dlasagna@carey.cl
+56 2 2928 2216
His practice is focused mainly on commercial, corporate, banking and financial law, advice to local and foreign banks and financial institutions, and on local and foreign project financing.
REPRESENTATIVE EXPERIENCE
Banco de Crédito e Inversiones on a commercial alliance with EVO Payments, a US company linked to the payment methods business, for the creation of a joint venture to launch a new payment system in Chile; and on the authorization process of the operation before the Financial Market Commission.
Banco Security, Compañía de Seguros de Vida Consorcio Nacional de Seguros and CN Life Compañía de Seguros de Vida, on the review and preparation of the finance documents required to reflect the transfer of 100% of their borrower's shares GR Laurel and GR Litre, to IEH Solar Chile, subsidiary of InterEnergy Holdings.
Sumitomo Mitsui Banking Corporation, Mizuho Bank and Banco Santander-Chile on the financing for up to USD126 million for the acquisition of GasValpo, a Chilean gas distribution company, by a joint venture between Marubeni Corporation and Toesca Infraestructura GV Fondo de Inversión, managed by Toesca S.A. Administradora General de Fondos.
Inter-American Development Bank, Overseas Private Investment Corporation, International Finance Corporation, Itaú Corpbanca and its New York branch, Banco de Crédito e Inversiones, Banco del Estado de Chile, DNB Bank ASA and KfW-IPEX Bank GmbH, as part of the senior lender group, on the second financial restructuring of the 531MW Alto Maipo hydroelectric project in Chile, which involved the renegotiation and amendment of the terms and conditions of the current financing of the project, estimated at more than USD3 billion.
Pattern Energy on the sale of its project portfolio in Chile to Arroyo Energy, including the 115 MW El Arrayán wind farm and the 104 MWac Conejo solar photovoltaic plant . We also assisted Pattern Energy on the exercise of their rights and obligations with Antofagasta Minerals under the shareholders agreement for El Arrayán wind farm.
CCAF Los Héroes on the incorporation of a non-banking prepaid card issuer company, named Sociedad Emisora de Tarjetas de Pago Los Héroes, in accordance with the provisions set forth in Law 20,950, including the request for the relevant authorization, which was granted by the Superintendence of Banks and Financial Institutions.
Unibanco on the drafting of a joint-and-several surety granted in Chile by Sonda to guarantee the fulfillment of the obligations of four of its Brazilian subsidiaries, under certain credits granted to it by said bank in Brazil. The advice also included the drafting of a legal opinion regarding the validity and enforceability of said guarantee in accordance with Chilean law.
Scotiabank Chile on the acquisition of Banco París' assets and liabilities, regarding its closure of business, including the subsequent administration of migrated clients and the promise of acquisition of shares that Banco Paris had in Sociedad Operadora de la Cámara de Compensación de Pagos de Alto Valor.
ACTIVITIES AND MEMBERSHIPS
Professor of the course "Financing Mechanisms for Construction Projects" of the Degree in Construction Law, Universidad de los Andes (2022).
Corporate Governance Attorney, Banco Itaú CorpBanca (2016).
Chief Attorney, Banco Itaú Chile (2015-2016).
PUBLICATIONS
Co-author of the Chilean chapter in Global Legal Insights - Banking Regulation, Global Legal Group (2020 and 2021).
Co-author of the Chilean chapter in ICLG - Lending & Secured Finance, Global Legal Group (2020-2021).
Co-author of Banking Regulation in Chile, Practical Law, Thomson Reuters (2020 and 2021).
Co-author of the chapters on the regulators of the Chilean financial sector: the Financial Market Commission, Superintendency of Pensions and Central Bank, Latin Lawyer Regulators (2020-2021).
Co-author of the Chilean chapter in Global Legal Insights - Banking and Finance, Global Legal Group (2020).
Co-author of the article "Regulatory Overview of Fintechs in Chile" in the book "Fintech: Legal Aspects", Cetys, Universidad de San Andrés, Argentina (2019).
EDUCATION
Law, Universidad de Concepción (Summa Cum Laude).
ADMISSIONS
LANGUAGES