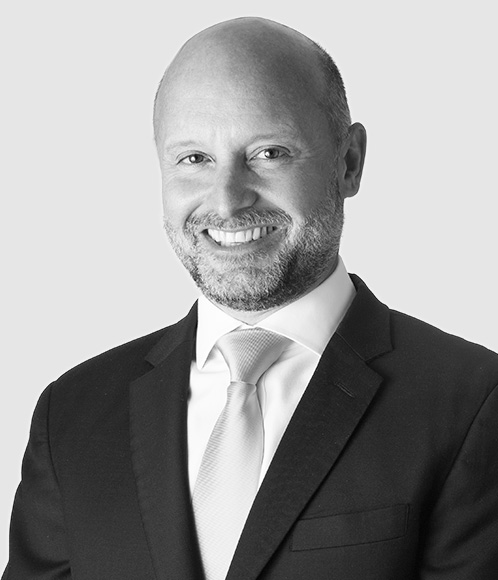 Francisco Ugarte
Partner

fugarte@carey.cl
+56 2 2928 2201
Partner of Carey and co-head of the firm's Corporate / Mergers & Acquisitions / Capital Markets / Banking & Finance Groups. His practice focuses on advising international and local clients on M&A and private equity transactions, including tender offers, joint ventures, debt issuances, public and private offering of securities, derivatives and project development.
REPRESENTATIVE EXPERIENCE
Equinix, a US multinational company and the world's largest data center and colocation infrastructure provider, on the acquisition of Entel's data center business in Chile and Peru for over USD700 million.
Asset AGF on the organization of Rentas Industriales Asset DLS Investment Fund and acquisition of the warehouse center Bodepark.
Banco Santander, as the main Chilean creditor, on the LATAM Chapter 11 reorganization process for over USD600 million.
M.C. Inversiones, a subsidiary of Mitsubishi Corporation, on the sale to Invercap of a 6.77% stake in CAP, a leading iron ore producer in the America Pacific Coast and on the sale of all its shares in the open stock corporation Invercap to various existing shareholders.
Capstone Mining, a Canadian copper and silver producer, on a USD3.3 billion joint venture with Mantos Copper, which will operate the Chilean mining projects Mantoverde, Mantos Copper and Santo Domingo.
Fondo de Infraestructura (Desarrollo País), a state corporation, on a strategic alliance with H2 Cable (Singapore) for the development of "Humboldt", a 15,000 km. submarine cable that will connect Latin America with Asia-Pacific and Oceania.
State Grid International Development (SGID) on the acquisition from Sempra Energy of a 100% interest of Chilquinta Energía and its energy transmission and distribution subsidiaries; Tecnored, an electric construction and infrastructure services company; and a 50% interest of Eletrans power transmission companies for USD2.5 billion. Additionally, Chilquinta acquired from SAESA the remaining 50% interest of Eletrans.
IFM Investors on the sale of Pacific Hydro, a renewable energy company with assets in Australia, Chile and Brazil, to State Power Investment Corp. of China, deal that was recognized as "Cross-Border M&A Deal of the Year" by Latin Finance.
Mesoamerica, a leading private equity and consulting firm in Central America and the Andean region, on the acquisition of Unifood, a leading group in the Chilean fast-food industry that owns and operates the brands Pedro Juan & Diego, Pollo Stop, Heladerías Savory, Fuente Nicanor, XS Market and Fajita Express, with more than 120 stores in Chile.
Banco de Crédito e Inversiones on the acquisition and regulatory approval for the acquisition of City National Bank of Florida, for USD946.9 million, the largest Chilean investment in the United States and, subsequently, on the acquisition of TotalBank, for USD528 million and Executive National Bank for USD75 million.
Barrick Gold Corporation on the sale of a 50% interest in the Zaldívar copper mine in Chile to Antofagasta PLC for USD1.005 billion.
AWARDS AND RECOGNITIONS
Named Lawyer of the Year in Structured Finance, Best Lawyers (2021).
Recognized in Corporate and M&A, and in Capital Markets, Chambers Latin America.
Recognized in Banking and Finance, The Legal 500.
Recognized in Corporate and M&A; Banking and Finance; Capital Markets and in Mining & Metals, Latin Lawyer 250.
Recognized in Banking and Finance and Corporate and M&A, IFLR1000.
Recognized in Mining, Project Finance, M&A and Corporate Governance, Who's Who Legal.
Recognized as Thought Leader in Corporate and M&A, and in Capital Markets, LACCA.
Recognized in Banking and Finance, Capital Markets, Corporate and M&A, Corporate Governance and Compliance, Derivatives, Insolvency and Reorganization, Investment, Private Equity, Project Finance and Development and Structured Finance, Best Lawyers.
Recognized in Corporate M&A and Banking and Finance, Leaders League.
Recognized in Corporate, M&A, Banking and Finance and Capital Markets, Top Ranked Legal.
Recognized as Best Individual Lawyer in Derivatives and in Mergers and Acquisitions in Chile, Client Choice (2012, 2014 and 2018).
Ranked as one of the leading corporate lawyers in Chile under the age of 40, Latin Lawyer (2003).
ACTIVITIES AND MEMBERSHIPS
Member of the Board of Compañía Industrial El Volcán, VIVO, Hidronor and Chairman of Votorantim Andina. He has also been a member of the Board of SQM, Bci Corredor de Bolsa and Liberty Seguros.
Professor of the LL.M. program at Universidad Católica de Chile (since 2010). He has also been a Professor at Universidad Adolfo Ibáñez (2009-2012) and Universidad del Desarrollo (2009).
Vice Chair of the M&A Joint Ventures Committee (2020-2023) and Vice Chair of the Latin America & Caribbean Committee (2017-2023) of the International Law Section of the American Bar Association (ABA).
Member of the International Bar Association.
Foreign Associate, Shearman & Sterling, New York (2001-2003).
Member of the Chilean Bar Association.
PUBLICATIONS
Co-author of the Chilean chapter in ICLG - Derivatives, Global Legal Group (2020).
Author of the Introduction "Legal innovations that foreign investors should be aware of", ILFR Guide (2014).
Co-author of "Secured Transactions South of the Border: Chilean Highlights and Recent Developments", Conference on Consumer Finance Law, Quarterly Report, Oklahoma City University Law School (2012).
Author of the Chilean chapter in "Essentials of Merger Review", International Antitrust Committee, American Bar Association (2009).
Co-author of the Chilean chapter in "Merger Control Worldwide", Cambridge University Press (2005).
Contributor in several legal reforms promoted by the Chilean government, the SVS (currently Financial Market Commission) and other private associations.
SEMINARS
Frequent lecturer on various corporate finance, M&A, private equity, capital markets and corporate governance topics in seminars and conferences organized by the ABA, Latin Lawyer and the Chilean Bar Association, among others.
EDUCATION
Law, Universidad Católica de Chile.
LL.M., The University of Chicago Law School (2001).
ADMISSIONS
LANGUAGES