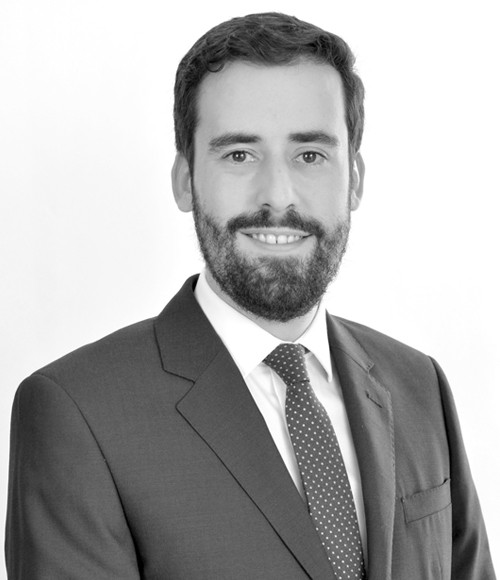 Fernando Noriega
Partner

fnoriega@carey.cl
+56 2 2928 2216
Partner of Carey and co-head of the firm's Banking & Finance / Capital Markets Groups. His practice is focused on banking law, lending transactions, project financing, as well as issuance of debt instruments, capital markets and foreign investment.
REPRESENTATIVE EXPERIENCE
Codelco on the issuance and sale of USD900 million 10-year term notes, under Rule 144A/Reg S., with an interest rate of 5.125% and maturity in 2033, which included the participation of BNP Paribas, Bank of America, Banco Santander, and Scotia Capital (USA), as initial purchasers.
Mainstream Renewable Power, and its subsidiaries in Chile, on a project financing for approx. USD620 million granted by Inter-American Investment Corp., CaixaBank, DNB ASA, KfW IPEX-Bank and Mitsubishi UFJ Financial Group and a VAT facility granted by Banco Santander Chile for approx. USD53 million, for the development and construction of Huemul, a five non-conventional renewable energy portfolio. This portfolio is comprised by two wind farms (Ckani and Llanos del Viento) and two solar PV plants (Pampa Tigre and Valle Escondido) located in the north of Chile and one wind farm (Puelche Sur) located in the south of Chile, with a combined capacity of 630 MW. It partially serves the PPAs awarded to Mainstream in the 2015/01 public tender process to supply 3,366 GWh/year to distribution companies.
Actis and Mainstream Renewable Power on the negotiation of an agreement for the sale of Aela Energía, Chile's largest independent renewable energy producer, to Canadian-listed developer Innergex Renewable Energy. Aela's portfolio comprises three newly built wind farms: Sarco (170 MW), Aurora (129 MW) and Cuel (33 MW); and sells energy via two power purchase agreements with Chilean distribution companies.
Sonnedix, through its subsidiary Sonnedix Cox Energy Chile, a joint venture with Cox Energy América, on a financing for up to USD120 million, granted by Sumitomo Mitsui Banking Corporation and DNB Bank ASA, for the construction, development and operation of the Sonnedix Meseta de los Andes project, a 160MWp solar photovoltaic power plant, to be located in the Valparaíso Region of Chile, and a transmission line of approx. 15.6 kilometers, connecting the solar plant with the Los Maquis substation. We also assisted Sonnedix on a VAT Facility Agreement with Banco Security to finance the VAT associated with the construction of the project.
Celeo Redes on the issuance and placement of USD1.1 billion Senior Secured Notes under Rule 144A/Reg. S of the U.S. Securities Act at a 4.550% interest and due 2051, by Alfa Desarrollo. The proceeds are intended for the acquisition of Colbún Transmisión.
Codelco on the issuance and sale of notes USD780 million, under Rule 144A/Reg S., at a 3.700% interest rate and due 2050, which constitute a further issuance of and form a single series with Codelco's USD900 million 3.700% Notes due 2050 and Codelco's USD1 billion 3.700% Notes due 2050 (denominated the "Original Notes" for USD2.68 billion). Also, on a cash tender offer for approx. USD386 million of 4.500% Notes due 2023, EUR600 million of 2.250% Notes due 2024 and approx. USD671 million of 4.500% Notes due 2025.
Scotiabank Chile on a non-revolving credit facility granted to Solek Chile Holding III, a wholly owned subsidiary of the Solek Group, to finance the VAT associated with the construction of its photovoltaic PMG/PMGD projects in Chile. The initial disbursement will be used to finance the VAT associated to the construction of El Huaso and Don Flavio projects.
Celeo Redes regarding a bridge loan agreement granted by an important financial institution to APG Energy & Infra Investment Chile Expansion to finance the acquisition of 100% of Transmisora Eléctrica de Quillota.
Empresa de los Ferrocarriles del Estado (EFE) on its inaugural 144A/Reg S issuance of senior notes for USD500 million at a 3.068% interest due 2050.
A group of financial institutions on the acquisition of senior secured notes for approx. USD253 million, issued by the Chilean subsidiaries of Atlas Renewable Energy, to finance the photovoltaic projects Sol de Javiera and Sol del Desierto.
Mainstream Renewable Power Mezzanine Finance DAC, as borrower, and Cóndor Inversiones and Huemul Inversiones, as guarantors, on a loan for up to USD280 million, granted by AMP Capital group and the granting of certain guarantees in favor of Wilmington Trust, National Association, as collateral agent, for the financing, among others, of part of the capital contributions of the borrower, construction costs, funding of accounts and payment of certain expenses, of the wind and solar energy projects developed by the subsidiaries of Cóndor Energía, Huemul Energía and Puelche Sur Eólica.
Acciona Energía Chile on a not-revolving credit line for up to USD34.5 million granted by Banco Santander to finance the VAT associated to the construction of the solar plants Usya, Malgarida I and Malgarida II , and its wind farm Tolpán.
Sumitomo Mitsui Banking Corporation (SMBC) on a financing granted to Edgeconnex Chile, for the construction and set up of a data center located in the Metropolitan region, to be operated by Microsoft and Oracle.
AWARDS AND RECOGNITIONS
Recognized in Banking and Finance, Chambers Latin America.
Recognized in Banking and Finance, The Legal 500.
Recognized in Banking, Leading Lawyers.
Recognized in Banking and Finance, Top Ranked Legal.
ACTIVITIES AND MEMBERSHIPS
Professor of the course "Financing Mechanisms for Construction Projects" of the Degree in Construction Law, Universidad de los Andes (2022).
Professor of the course "Financing and Bankruptcy Reorganization: DIP Finance and Project Finance" of the Postgraduate Degree in Insolvency, Universidad del Desarrollo (2019-2021).
Foreign Associate, White & Case, New York (2015-2016).
Member of the Chilean Bar Association.
PUBLICATIONS
Co-author of the Chilean chapter in Latam Fintech Regulation, Lloreda-Camacho (2019 and 2023).
Co-author of the Chilean chapter in Global Legal Insights - Banking Regulation, Global Legal Group (2020-2023).
Co-author of the Chilean chapter in ICLG - Lending & Secured Finance, Global Legal Group (2020-2022).
Co-author of the chapters on the regulators of the Chilean financial sector: the Financial Market Commission, Superintendency of Pensions and Central Bank, Latin Lawyer Regulators (2020-2021).
Co-author of the Chilean chapter in Global Legal Insights - Banking and Finance, Global Legal Group (2020).
Co-author of the article "Chilean Banking Law Reform: Three Key Aspects", Financier Worldwide (2018).
Author of the book "National Doctrine and Case Law on Medical Mal-Practice" (2011).
EDUCATION
Law, Universidad de Chile (Summa Cum Laude).
LL.M., Banking Law and Financial Regulation, London School of Economics and Political Science (LSE) (2015).
ADMISSIONS
LANGUAGES