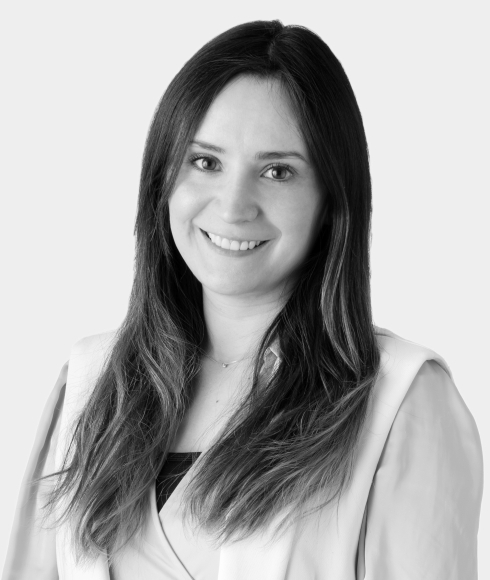 Francisca Castillo
Associate

fcastillo@carey.cl
+56 2 2928 2665
Her practice focuses on matters related to intellectual and industrial property, data protection, e-commerce and, in general, matters related to new technologies as well as corporate and commercial matters, mergers and acquisitions, international trade, foreign investment and general practice.
REPRESENTATIVE EXPERIENCE
VTR on the issuance and placement of senior secured notes under Rule 144A / Reg. S for USD410 million by VTR Comunicaciones SpA. The main purpose of the issuance was to repay a credit facility of the company and the redemption of 10% of the total amount of the bonds issued in 2020 by the company for USD600 million.
Liberty Latin America (LLA) on the merger with América Móvil (AMX) in order to combine their respective Chilean operations, VTR and Claro Chile, through a 50:50 joint venture agreement. VTR is a leading provider of high-speed fixed products, such as broadband and paid TV services, with approx. 3 million subscribers nationwide, and Claro is a leading telecommunications service provider, with more than 6.5 million mobile customers. This JV creates a greater scale business and product diversification with a capital structure that enables a significant investment for fixed fiber footprint expansion and a forefront 5G mobile delivery.
Ambipar on the acquisition of 100% of Disal, a Chilean environmental management company, through the acquisition of the Chilean company Disal Ambiental Holding and its subsidiaries in Chile, Peru, Paraguay and Uruguay.
Bodegas Industriales (Boinsa) on the acquisition of a minority stake in Logistica Industrial (Loginsa) from the private investment fund AXA Capital Chile, consolidating a 100% of the ownership of Loginsa.
Nova Austral on a 50/50 joint venture with Trusal with the purpose to conduct fish farming activities in the Magallanes Region, including the manufacture and commercialization of salmon products.
VTR on the issuance and placement of senior secured notes under Rule 144A / Reg. S for USD600 million by VTR Comunicaciones and the issuance and placement of senior unsecured notes under the same rules for USD550 million by its holding company VTR Finance N.V. The main purpose of both issuances was to redeem the senior secured notes for USD1,4 billion due 2024 issued by VTR Finance.
Multicaja, through its local subsidiary Krealo, on the sale of its digital business segment, which included the operation of PayPal business in Chile, mobile phone recharge and online transactions; and of its pre-paid card issuer, Multicaja Prepago, to Credicorp Perú for USD19 million.
SARIA Group, a German based company and one of the worldwide leading specialists in the recycling of animal and vegetable products and waste products, on the acquisition of the assets comprised in the production and trading of meals and premixes of marine origin business owned by Comercial Bahía.
ACTIVITIES AND MEMBERSHIPS
Teaching Assistant of Civil Law, Universidad de Chile (since 2015).
Law Clerk, Corporate/Mergers & Acquisitions Group, Carey (2014-2017).
SEMINARS
Coordinator, IV Student Congress on Civil Law, Universidad de Chile (2016).
EDUCATION
Law, Universidad de Chile.
Degree in Technology and Regulation, Universidad del Desarrollo (2022).
ADMISSIONS
LANGUAGES