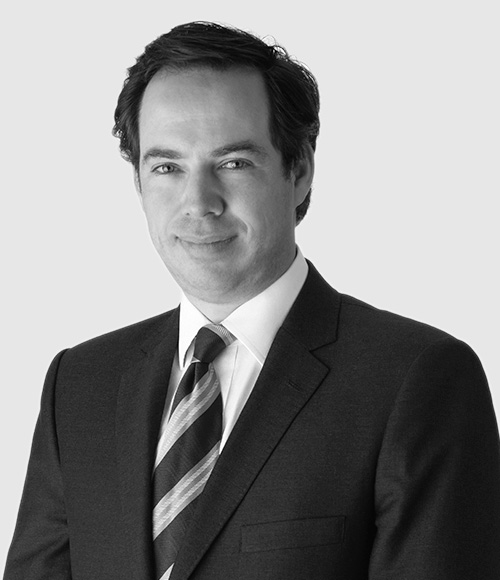 Jorge Ugarte
Partner

jugarte@carey.cl
+56 2 2928 2201
Partner of Carey and co-head of the firm´s Corporate / Mergers and Acquisitions / Capital Markets Group. His practice focuses on advising local and foreign clients in mergers and acquisitions, private equity transactions, capital market and general corporate matters. He is a recurrent counsel in the negotiation of share, equity and asset purchase agreements, shareholders agreements, corporate governance and board's liability. He also acts as counsel to family companies and holdings, structuring estate successions and providing integral advice to the controlling group and the operative companies. Jorge is author of the book "Share Transfer Agreements" published in 2016.
REPRESENTATIVE EXPERIENCE
Sun International on the transfer of 65% of its shares in Sun Dreams, the largest casino operator in Chile, to Nueva Inversiones Pacífico Sur for approx. USD160 million. The advice included a settlement agreement to terminate an international arbitration regarding the sale of a 15% of the company's shares and a share purchase agreement to transfer an additional 50% of the shares.
Tianqi Lithium Corporation on the acquisition of a 24% stake of Sociedad Química y Minera de Chile (SQM) for USD4.066 billion. 62.6 million Class A shares in SQM were awarded to a Tianqi affiliate in an auction conducted at the Santiago Stock Exchange (SSE), making it the largest transaction in the history of the SSE.
Masisa on the sale of all the forestry assets owned by its subsidiary Masisa Forestal to Forestal Tregualemu, a company wholly owned by GFP Chile Timberland Holdings, for USD350 million.
Asterion Industrial Partners on the local aspects of the acquisition of eleven data centers, owned by Telefónica in multiple jurisdictions, for approx. USD616 million, which included regulatory and corporate analysis, assets transfer, associated contracts and licenses, obtaining authorizations and analysis of merger control regulation in accordance to Chilean law.
Barrick Gold Corporation on the international bid and sale of 50% of Compañía Minera Zaldívar to Antofagasta Minerals for USD1.005 billion, including the negotiation of the shareholders agreement and structuring the joint venture.
Masisa on a strategic reorganization of different companies belonging to the same company group under rules of related party transactions applicable to open corporations, including among other actions, the capital increase for more than USD580 million on Inversiones Internacionales Terranova, subsidiary of the group in Venezuela.
Bacardi on the transfer of certain Chilean and Uruguayan subsidiaries to Grupo Cepas. In consequence, Cepas became the exclusive distributor of Bacardi in both Chile and Uruguay and obtained control of its manufacturing facilities in those countries.
Mesoamerica, a leading M&A advisory and private equity firm in Latin America focused on Central America and the Andean Region, on the due diligence and acquisition of a majority stake of Unifood, a leading group in the Chilean fast-food industry. Unifood owns and operates the brands Pedro Juan & Diego, Pollo Stop, Fuente Nicanor and XS Market, with more than 120 stores in Chile.
Bain Capital on the acquisition of Atento, the largest call center company of Latin America, from Telefónica España for a global amount of €1.039 million, and in the international financing of the acquisition.
Masisa on a tender offer for the partial repurchase of its 9.5% senior notes due in 2019, issued and placed in international markets on May, 2014 under Rule 144A and Regulation S of the U.S. Securities and Exchange Commission, for a maximum amount of USD100 million. The aggregate value of the notes issued and placed in 2014 was of USD300 million.
Origin Energy on the acquisition of 51% of the hydroelectric company, Energía Austral, from Xstrata Chile for USD150 million.
Mitsui on a joint venture with Salmones Multiexport for the production of coho salmon and trout for USD36 million.
The Ministry of Economy of Chile on drafting the regulation of the Law 20,659 about "Companies incorporated in one day".
AWARDS AND RECOGNITIONS
Recognized in Corporate and M&A, The Legal 500.
Recognized in Corporate and M&A, Capital Markets and Private Wealth, Latin Lawyer 250.
Recognized in Capital Markets, Corporate and M&A, Corporate Governance and Compliance, Best Lawyers.
Recognized in Corporate M&A, Top Ranked Legal.
ACTIVITIES AND MEMBERSHIPS
Coordinator of the Private Law Department, Universidad Católica de Chile (since 2019).
Professor of Civil Law, Universidad Católica de Chile (since 2017).
Professor of Commercial Law, Universidad Católica de Chile (2010-2017).
Professor of the Degree in Mergers and Acquisitions, Universidad de Los Andes (since 2017).
Professor of the Degree in Civil Liability and Damage Law, Universidad de Chile (since 2017).
Member of the Sustainability and Corporate Governance Committee, SOFOFA (2017).
Advisor of the Commission for the new Commercial Regulation in Chile (2016-2017).
Writing advisor for the regulation of the Law 20,659: "Companies incorporated in one day" for the Ministry of Economy, enacted in 2013.
Member of the Center for Corporate Governance, Universidad Católica de Chile (since 2010).
Professor of an Investment Funds Seminar, Universidad Católica de Chile (2012).
Assistant professor of Civil Law, Universidad Católica de Chile (2006-2008).
Member of the International Bar Association.
Member of the Chilean Bar Association.
PUBLICATIONS
Author of the book "Share Transfer Agreements", Editorial Jurídica de Chile (2016).
Co-author of the Chilean chapter of "Corporate Governance Review", Law Business Research (2017).
Author of "Enforceability of Contracts against Third Parties and Actions Arising therein", Revista Chilena de Derecho Privado (2017).
Co-author of "Mergers and Acquisitions in Chile: Approaching the Controlling Shareholder", introductory chapter of Who's Who Legal: Mergers and Acquisitions (2014).
Author of "Foundations and Actions for the Application of the Veil Piercing in Chile", Revista Chilena de Derecho, No. 3; article which has been expressly quoted and its doctrine has been adopted by the Supreme Court of Chile (2012).
Author of "Democracy and Natural Law in the United States: The Ideas of the Founding Fathers", Revista Estudios Públicos, CEP, No. 119 (2010).
Author of "Protecting Force Inheritance against Specific Legacies", Revista Chilena de Derecho, No. 2 (2007).
SEMINARS
Conference "Actions in Case of Breach of a Shareholders' Agreement", Seminar "Shareholders Agreements: An Interdisciplinary Look" Universidad de los Andes, 2019.
Conference "The Concept of Controlling Shareholder in the Chilean Capital Market", International Seminar on Corporate Governance organized by the CGC UC, the Hennick Centre of Canada, Columbia University and Carey (2017).
Conference "Risks and Liabilities that Board Members Face", Seminar "Boards of Family Companies: Keys and Challenges" organized by ESE Business School and the Family Business Association (2017).
Conference "Share Transfer Agreements", Chilean Bar Association (2016).
Conference "Piercing of the Corporate Veil in the Chilean Civil and Corporate Case Law", Chilean Bar Association (2013).
EDUCATION
Law, Universidad Católica de Chile.
LL.M., Columbia University, New York (2009).
Family Business Management Program, ESE Business School (2017).
Family Governance LATAM Program, Wharton Business School, Miami (2017).
Distinction Scholarship Award granted to the best student of the class, Universidad Católica de Chile 1999.
ADMISSIONS
LANGUAGES