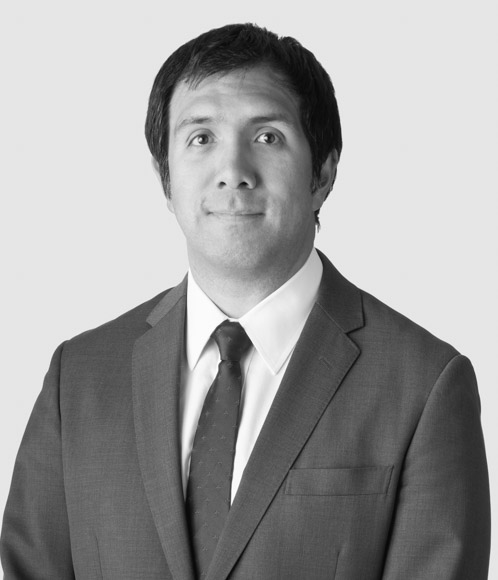 Pablo Morales
Associate

pmorales@carey.cl
+56 2 2928 2205
His practice is focused on energy projects, including energy supply, transmission, transportation, contracts, regulation, tenders for supply energy to clients subject to energy regulated prices, tenders to buy energy for non-regulated and industrial clients, obtention of lands and permits to develop energy projects, green hydrogen projects, battery energy storage systems (BESS), as well as advice in the electric and gas regulation and civil law. He has broad experience advising national and international companies on M&A transactions, power purchase agreements, toll agreements, agreements for the construction and development of energy projects, including concessions, easements and other permits before the Ministry of National Assets and the Ministry of Energy. He also has helped companies in energy supply tenders, both as bidders and clients, including the analysis of the terms and conditions, as well as drafting the legal documents that are part of the tender rules or those to be presented for the corresponding offer, as applicable.
REPRESENTATIVE EXPERIENCE
Sonnedix, a global solar Independent Power Producer (IPP), on the acquisition of the ARCO renewable energy portfolio, which is comprised by "El Arrayán" operating wind farm, its expansion under development "Carica"; "Conejo" operating photovoltaic power plant, its expansion under development "Librillo"; 13 small distributed generation projects (PMGDs) under operation; "Don Goyo" substation; and a battery energy storage system (BESS), with an aggregate installed capacity of approx. 500 MW, located in different regions of Chile.
Codelco on the Amendment and Consolidated Text of the Power Purchase Agreement (PPA) signed with Colbún to supply renewable energy to all of Codelco's consumption, including the accreditation of renewable supply through certificates (such as I-REC or equivalent). This agreement was initially signed to supply part of the consumption of Codelco divisions until December 2044. Additionally, on the judicial constitution of mining easements for its copper project Radomiro Tomic in the north of Chile, specifically regarding the mining legal easements trials against the State of Chile for next projects.
Acciona Energía on a purchase agreement for San Gabriel Wind Project, a wind farm of 183MW installed capacity and 61 wind turbine generators; and of Tolchén Transmission Line. Subsequently, on the sale of such transmission line to Saesa, in order to interconnect and inject energy generated from different operating and future wind power projects in the south of Chile.
Minera Gaby (Codelco) on the negotiation and closing of an agreement with a Chilean–Danish consortium to build, operate and exploit a solar thermal plant and supply of heat for its electro-generation process, that will be the largest solar thermal plant in the world of this type.
Several power generation companies on the processing of concessions, easements and other permits before the Ministry of National Assets and the Ministry of Energy to build, operate and exploit non-conventional renewable energy plants, their transmission lines and their access roads.
Fotones de Chile, a company of Spanish investors, on the execution of a Power Purchase Agreement (PPA) and its ERNC certificates, between its project "Libertad" and Enel, for 180GWh/year. Also, on the negotiation and sale of two photovoltaic energy projects, one of which will supply energy to the astronomical observatory La Silla owned by the European Organisation for Astronomical Research in the Southern Hemisphere (ESO), both transferred to Enel Green Power Chile.
Numerous important generation companies on the negotiation of contracts, including power purchase agreements, supply, interconnection agreements with the companies that own the respective transmission systems and related contracts. Also, on agreements for the design, construction, installation and commissioning of the electromechanic equipment for the development of power generation projects.
Several generation companies on their participation as bidders in energy supply tender processes for clients subject to price regulation, both in the review and analysis of the terms and conditions, as well as drafting the legal documents to be presented and the preparation of the corresponding administrative offer.
AWARDS AND RECOGNITIONS
Recognized in Electricity, Oil and Gas, The Legal 500.
ACTIVITIES AND MEMBERSHIPS
Professor of Civil Law, Universidad Católica de Chile (since 2022).
UCLA Ambassador, UCLA LL.M. Ambassadors Program (since 2019).
Foreign Associate at the Finance and Banking group, Mayer Brown, Washington DC, United States of America (2018-2019).
Teaching Assistant of Civil Law, Universidad Católica de Chile (2010-2013).
RELATED AREAS
EDUCATION
Law, Universidad Católica de Chile (graduated with honors and scholarship holder of Beca Padre San Alberto Hurtado).
LL.M. in Environmental and Natural Resources, University of California, Los Angeles, USA (awarded with the Becas Chile and Dean's Tuition Fellowship) (2018).
ADMISSIONS
LANGUAGES